ATTORNEYS > Cyril FERGON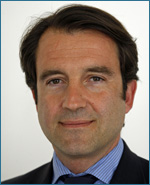 Member of the Paris Bar since 1997
Education
• Master's Degree in private law (Paris V – Paris – Descartes),
• Post graduate research degree in Public Law (Paris I – Panthéon-Sorbonne),
• Post-graduate qualification in litigation and proceedings (Paris V – Paris –Descartes).

Experience
• Administrative Assistant at Assemblée Nationale (French Congress) 1990-1993 and 1995-1997,
• Technical Advisor at the Cabinet of the French Minister of Defense 1993-1995,
• Counsel (1998-2001) then Partner at Farthouat, Asselineau & Associés law firm until 2010.

Provided Training
• In charge, along with a Conseiller d'Etat, of teaching administrative litigation at the Paris Law school,
• Lecturer in Public Criminal Law at Ponts et Chaussées school in Paris.

Publications
• Auteur du « Guide du candidat » Flammarion 2000 en droit électoral.
Other
• Cyril Fergon is Lieutenant-Colonel of the Citizen Reserve of the French Gendarmerie and he was made
"Knight of the French National Order of Merit".